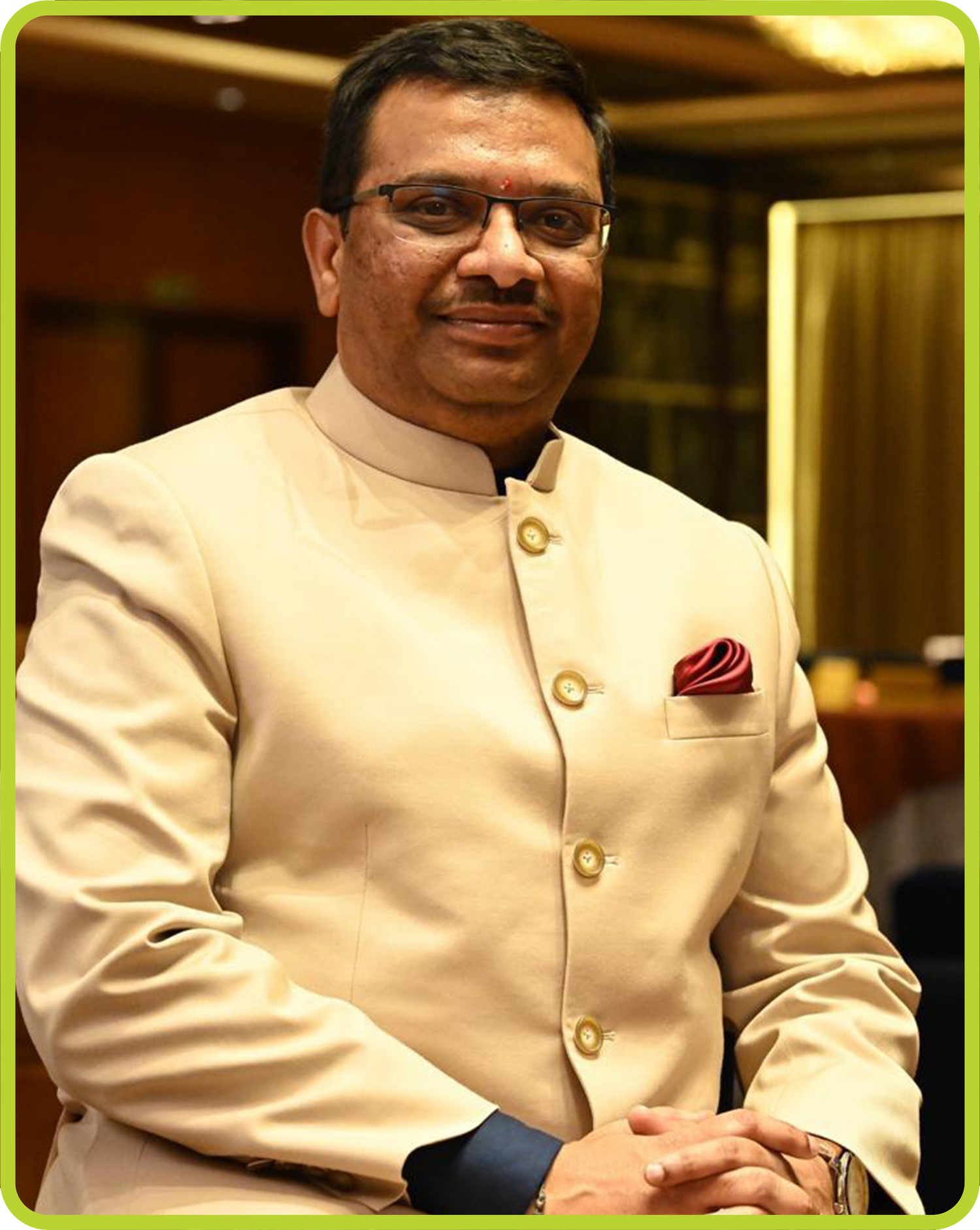 Dr. PRASHANTH S. ACHARYA
"सामा दोष साम अग्निशा साम धतु माला क्रिया प्रसन्ना आत्म इन्द्रिया मनहा स्वास्थ इती अभिधीयते"
Meaning:
One is in perfect health when the Three doshas (Vata, Pitta, and Kapha) Digestive fire (digestion, assimilation, and metabolism) all the body tissues & components (Dhatus) (the entire physical body), and all the excretory functions (the physiological functions of urination and defecation) are in perfect order with a satisfyingly disposed and gratified mind, senses and spirit.
Dear Patrons,
"Atreya Resorts for Traditional Healing Pvt. Ltd (ARTH) is my baby. We have always been together during good times and bad times. Arth is my self-expression of Ayurveda in its true sense and authentic sense. What I mean by true sense or authentic sense, in simple words, is that Ayurveda for me is more health than wellness.
Our core key differentiator at what Arth offers is personalized authentic Ayurveda therapies with customized medicines. We mean it when we say authentic in all its activities. I have never compromised on any quality to date. And these years, it was only I who was saying it, and now it is getting corporatized. But, when I told somebody I am going to treat you for 42 days and I personally feel that you will be all right to this extent, I have secured the results.
We never measured ourselves by the number of persons treated. It has now been 21 years now and we have hardly crossed about 15,000 to 20,000 people to date. But, we love to say that the percentage of people, who would say that they went to ARTH, took treatment but did not get the result that was promised or desired, is minuscule. We did a survey, including one by an outside agency. They said we giving numbers that are manipulated. We handed over our 100 % database to them and asked them to check it out and revert if there is any disaffection among those in the patient database. They did about 700 sample calling, two patients blasted us left and right – one mentally unstable and another with a genuine grouse. No compromise on quality - That is the only USP at ARTH. People use this word, but I mean this word.
Arth is on a constant growth trajectory, pushing the limits we have ourselves set. One thing I always believed in, my mother always used to say this: 'Become so big that if people want to see you they should lift their head to see you. I want ARTH to become that big'. I have no competition and I am not for comparisons. You will never see ARTH or me following a model that exists. ARTH IS A UNIQUE MODEL IN ITSELF.
Arth Ayurveda's approach of diagnosis is very unique and different from conventional medicine with a very clear focus on getting to the root of a disease condition and treating the same, rather than simply providing temporary symptomatic relief. Well-trained physicians at ARTH examine the patient for presenting complaints as well as health history and document the same before prescribing the line of treatment. A patient's internal physiological characteristics and mental disposition is noted by a doctor. Other factors such as the affected bodily tissues, the area where the disease is located, patient's resistance and vitality, his daily routine, dietary habits, the gravity of clinical conditions, condition of digestion, and details of the personal, social, economic situation of the patient are also studied. Treatment at ARTH Ayurveda begins after all the above checks are done. As Ayurveda says, in this system, Yukthi should be used as per the times, and hence yes, as per today's times, the forms and malleability of this ancient health system are expressed at ARTH. My goal is to exercise all aspects of Ayurveda at ARTH so that Ayurveda becomes adaptable for today's lifestyle. I do not even call it medical science. It is the truth of life. No science says that you should carry an umbrella when it is about to rain or see a cloud. No medical science talks about it. But, Ayurveda talks about it. So it is much more, beyond mere medical science for me. (It is a way of living). So my dream is to make Ayurveda, the lifestyle of this Century."
PIONEERING EXCELLENCE IN AYURVEDA
Dr. Prashanth Shivarudraiah Acharya is the Founder Director and Managing Trustee of the ARTH Ayurveda Group encompassing an Ayurveda health care facility in Bangalore City; the Atreya Ayurvedic Medical College, Hospital and Research Centre at Doddaballapur, Bangalore rural District; and PoornaPrajna AyurPharma Pvt Ltd, a complete Ayurvedic Pharmaceutical company (branded under the name of Arth Ayurveda itself).
In 1998, Dr. Prashanth declared his intention to set up an INR 5 Crore Ayurveda company. Today, twenty one years later, he has achieved this and much more. He continues to further his vision and aims to create an integrated healthcare city healthcare city of INR 5000 Cr to redefine "Ayurveda as lifestyle of 21st century".
Dr. Prashanth is a medical practitioner and entrepreneur. He holds a Bachelor's degree in Ayurvedic Medicine and Surgery from Bangalore University. He is also a Master's degree holder in the surgical specialty of Ayurveda - Shalya Tantra - from the Rajiv Gandhi University of Health Sciences, Bangalore. Dr. Prashanth has treated over 3,000 patients for disc degeneration problems and is one of the rare holders of a PhD in the non-surgical management of Slip Disc in India.
Dr. Prashanth grew up in Bangalore in Sampangiramanagar. He was born to a Sanskrit Scholar and a school teacher who brought him up to love studying. His two brothers are also top performers in their various fields. One is a mechanical engineer and works at Hindustan Aeronautics Ltd and the other is a top director at Oracle Corporation.
His ARTH Ayurveda journey began as a dream project among a group of his friends. Dr. Prashanth and four of his friends wanted to accomplish something unique in the Ayurveda field. Their dreams, however, suffered a setback when they parted ways at the end of their course. Undeterred, Dr. Prashanth continued to pursue his dreams despite a lot of difficulties.
He was almost giving up when he was invited in 1998 to a leadership workshop which set him back on course and renewed his zeal. Atreya Resorts for Traditional Healing Pvt. Ltd., (ARTH) was launched at Bangalore on 24th August 1999 to a tumultuous welcome, both within the Ayurveda fraternity and outside. The media went gaga over ARTH Ayurveda's vision to deliver authentic Ayurveda in its purest form, touching the four cornerstones of health – Diet, Lifestyle, Medicine & Therapy.
But, the cost of Ayurveda treatment and the lack of experience came as a stumbling block against Dr.Prashanth and his young partners. The organization sunk into debt and in 2003, some partners left the business. Dr. Prashanth was a doctor and wasn't really a businessman. However, he managed to convince Mr. Rajat Gupta, who is currently the Managing Director of ARTH Ayurveda, to believe in him and his vision. Then, Mrs. Vanitha Prashanth came into his life at this point and helped him out with organizational matters, freeing him to pursue and excel in his medical practice.
Dr. Prashanth is very grateful to and proud of his wife. She plays a key role in the running of the Atreya Ayurvedic Medical College, Hospital and Research Centre. Since the early days of ARTH Ayurveda, Dr. Prashanth has become an internationally acclaimed doctor and entrepreneur. ARTH Ayurveda, according to Dr. Prashanth, has become a synonym or metaphor for authentic Ayurveda and integrated healthcare.
Thanks to his breakthroughs and visionary leadership, Dr. Prashanth has been the recipient of a number of awards. He received the Atreya and Dhanwantari Awards from the Association of Ayurvedic Professionals of North America (AAPNA) in 2012 and 2014 respectively. He is an international Vaidya Member of AAPNA association and also a member of the National Ayurvedic Medical Association - USA. Dr. Prashanth S. Acharya is truly a leader in his field.
Arth Ayurveda World
We, at Arth are committed to this global vision of alleviating pain and helping people live long and healthy lives, through the application of Ayurveda and its principles. At Arth, we follow the basic rule of rooting out a disorder before it takes on the form of a disease.
Indira Nagar
Doddaballapura